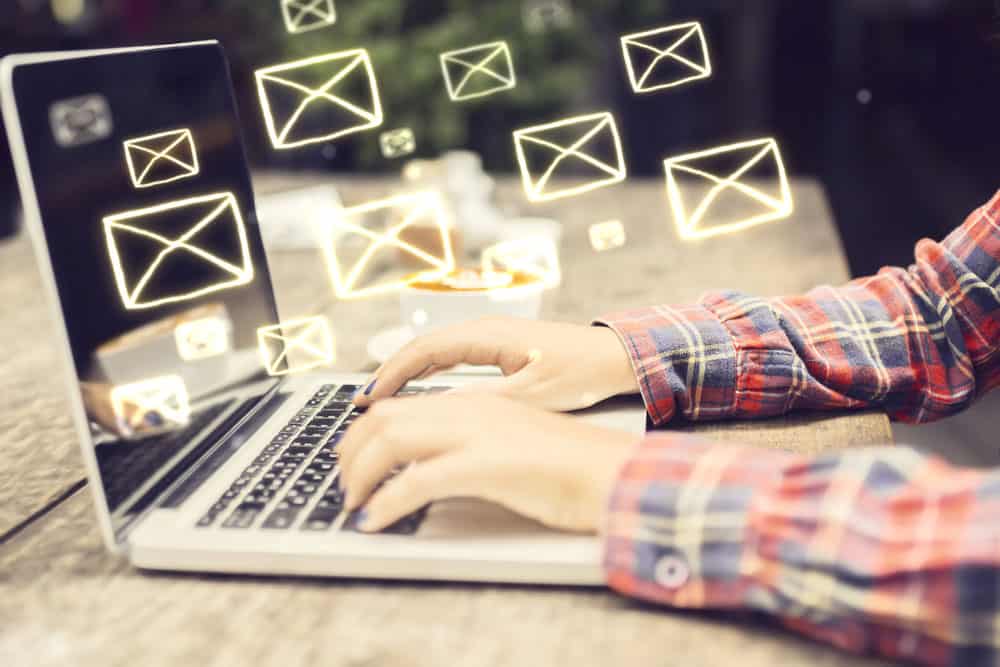 Why email marketing?
Email marketing refers to that marketing action by which a company sends emails for commercial purposes to groups of users or companies.
Despite the advent of social media marketing strategies, email marketing remains a winning approach and even superior performance , the numbers say.
The main advantage is the large audience that can be reached, since virtually every Internet user has one or more email addresses, while it is not equally obvious that a user has profiles on social networks.
The second advantage concerns deliverability , that is, the probability that the message will reach the recipient. If an email is built in such a way that it does not appear SPAM is almost certain that it is noticed by the user, especially on mobile thanks to push notifications. This is not guaranteed instead for social networks, as a post is displayed only by a small part of our audience, depending on who is online and the logic of the selection algorithms.
Representative image marketing email
Moreover, e-mails have survived to this day resisting all the different eras of technological evolution, while the same can not be said of social networks, which in some cases have given way to the emergence of new trends.
Thanks to the possibilities offered by CRM software , it is possible to personalize the message to build a more direct, engaging and effective communication. This can be done by segmenting the audience by type (for example prospects, customers, old customers, etc.) and by sending messages consistent with the different interests. You can act at an even greater level of customization by using the user's name in order to make the message less impersonal.
The reasons just listed, added to the low cost of implementation of email marketing campaigns involve an ROI that various analysts place in the first place among the types of marketing actions.
ROI different types of marketing campaigns. Source Campaignmonitor.com
ROI different types of marketing campaigns. Source Campaignmonitor.com
But how to create a mail marketing campaign? Here are the steps to launch your first campaign and start reaching new leads .
1 Create your list
The first action to do is to create a contact list. This is the first phase of any lead generation strategy. For further information on the topic, you can refer to our lead generation article.
Do you have a B2B business and want to find potential customers? With Lead Champion discover you can discover companies that visit your website and show interest! Try our demo .
Here are some tips on how to collect email addresses from your users:
Create your newsletter and advertise it on your website, blog and social networks
Provide insights on the articles of your blog
Create a pdf
Create a contest
Create a trial version of your product
Take advantage of offline events such as conferences, courses, conferences and seminars
Create advertising campaigns that point to a landing page dedicated to the subscription of your newsletter
2 Choose the platform
In the initial stages of business growth, companies often manually manage the storage of all information related to customer interactions. This can become a big problem when climbing large numbers. For this reason it is necessary to immediately rely on good CRM software.
The acronym CRM stands for Customer Relationship Management and indicates a type of software that allows companies to manage interactions with prospects, leads and customers (current or future).
These software, in short, help to efficiently track customer relationships. For example, in a B2B context, in the case of relationships with multiple contacts within the same company, it will be possible to trace the membership between contacts and company.
What we care about most now is that CRMs can manage email marketing campaigns , graze with dedicated features such as audience segmentation, mail automation and A / B testing.
Customer relationship Management representative image
The market offers a wide variety of solutions for every type of business. The most known and used CRMs are Salesforce CRM , HubSpot CRM , Nimble , Pipedrive , Zoho CRM and Infusionsoft . We suggest you refer to the official website to discover its functionalities and try different ones to check which one is best suited to the needs of your business.
If, on the other hand, you do not have the particular need to take advantage of the features provided by the Customer Relationship Management software, you can focus on solutions specifically dedicated to sending bulk emails such as Mailchimp .
3 Create an effective message
Care for the object
The first element that the user notices of an email, even before opening it, is its object. For this reason it is necessary to pay special attention to this aspect so as to increase the open rate, ie the percentage of users who will open the mail with respect to all the receivers.
Here are some useful